2005
December
20-23rd

Hideki Okamoto Sensei an 8th Dan and 3rd highest ranking JKA representative in the world came on a short visit to South Africa and met with Shihan Imtiaz and Shihan Solly. He requested this meeting on behalf of the Japanese government which has designs and plans to work with the SA government to help alleviate the Aids pandemic in Africa. He is also the Asian African Representative for the support of Aids Children in Africa. He contacted Shihan Imtiaz and Shihan Solly whom he wants to work in partnership with to teach Karate and a Support Computer Technology programme to children suffering with and orphaned by Aids. This project is to be financed by the Japanese government and is pending the approval of the SA government. We visited several homes for Aids Orphans with Okamoto Sensei in Soweto, Orange Farm, Eldorado Park and the Sparrow Village in Maraisburg. This very exciting eye opener and informative week ended 2005 with a BANG!! Looking forward to 2006.

11th

We had a Black Belt meeting and training session with local members and karate-ka from several African States.

9th

Shihan Solly and Shihan Imtiaz were invited to attend a Shotokan Karate International (SKI) awards evening in Durban, which Shihan Sonny Pillay Hosted..
November
25th

Black Belt dinner was attended by plus minus seventy (+ 70) black belts with special guests, the Ufak President , Mr Imtiaz Abdullla, Senpai Tim Modise and his partner Gugu who was a member of the judging panel for the popular SA Apprentice T.V. show.

Shihan conducted promotions at the following schools:

Goudpark Primary - + 200 Students




Eldocrest Primary - + 27 Students Bryandale - + 25 Students Fererastown + 40 Students

General Promotions took place on the following dates at the Honbu dojo:

13/02/05, 17/04/05, 12/06/05, 21/08/05, 13/11/05 and 4/12/05

Congratulations to all the students who were promoted.

Sensei Yolinda started working at the Dojo
October
A Shihankai was formed of which Shihan Solly and Shihan Imtiaz of Kenshi-kai Karate and president of UFAK are founding members. More about this organization in the forthcoming news.
During the month of Ramahdaan Shihan was interviewed for a programme 'Ramadhaan in Focus' this was aired on SABC 1.
September
The Launch

We successfully launched our new organization which coincided with Shihan's 40th anniversary in Karate Do. This event was attended by several karate Masters from other styles- The President of the Union for African Karate (UFAK) Shihan Imtiaz Abdulla, Shihan Nigel Jackson, Shihan Sonny Pillay, Sensei San Pillay to mention a few and SA's very own Papa poet Mr Don Matera and over 500 well wishers, supporters, friends patrons and students all witnessed the birth of the new and dynamic karate organization Ken To Fude No Karate Ryu The way of the brush and sword. The principles of which this style will be based on will be honour, integrity and skills development which represents the sword on one hand and the continuous search for knowledge and personal growth which is represented by the brush. We also received many e-mails from all over the world: Ireland, England, New Zealand, The USA, Australia and India wishing us well.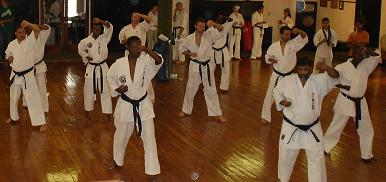 The Demo

One could almost hear a pin drop in the packed to capacity dojo. Karate students and masters from all over the country , as well as friends and family look on in deathly silence as Shihan Solly Said steps up to the rock he intends to break. Shihan Solly is attempting this seemingly impossible task of breaking rock with his bear hand, as the final to the launching of his new karate school. Every eye in the dojo is focused on Shihan, or master, as he focuses all his 40 years of training as a karateka on this final strike the rock breaks clearly in his hands and the dojo's rocked with cheering and clapping. The symbolism is apparent; as Shihan Solly broke the rock, so broke our attachment with the past, replaced by our unwavering commitment to the future!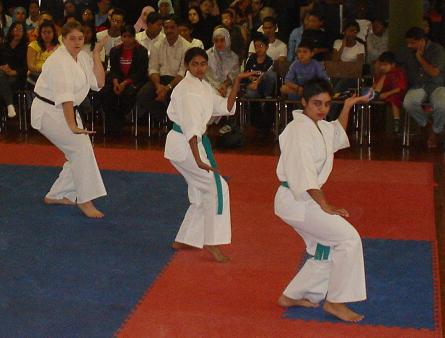 15th

Between the 15th September and the 7th October 'Radio Voice' station and 'Channel Islam International' interviewed Shihan about the launch of our new style and name.
August
5th- 7th

Shihan Solly took a team to Durban to take part in the National Trials under the Karate Association of SA. (KASA) . The team members were :-Senpai's Angelo, Yusuf, Zahra, Zaahid ,Vincent, Jose and brown and green belts:- Jan-nita, Sumayya, Roshni, Amina and Shireen . This team made up the Gauteng representation. Once again our team proudly proved that they were amongst the best. Shihan Solly took detailed notes of areas in which our students would need to concentrate on particularly in Kata which requires our students to learn the eight (8)Shitei Katas for the WKF. These Kata are mandatory for students competing in WKF tournaments.

1st

Junior black belt Ziyad Henry's Grandfather passed away. Shihan and everyone at the Dojo will sorely miss this grand old gentleman. Our sympathy to Mr. Dean Henry and his family.

'Your Child' magazine interviewed Shihan about Karate programmes for children and its benefits. This article can be seen in the Summer 2005 issue. Get a copy. The following is an excerpt from that article:

'Bullying and fighting' were rife at the Goudpark Primary School in Eldorado Park. The dynamic headmistress, Mrs Olga da Silva, had tried various innovative ways to decrease the violence in a school where many of the children come from poor, single-parent families and are witness to/or victims of violence on the home front. She saw the discipline that martial arts had instilled in her own daughter, and called in Shihan Solly, an instructor in karate and a practitioner for over 40 years. Martial arts provides children with an opportunity to channel negative emotions in a positive and controlled environment' says Shihan Solly, talking from the old church in Mayfair West that he has converted into a Dojo. His passion for karate has helped transform the lives of the children in Olga de Silva's school. 'We noticed that the children have become disciplined, more focused, and the bullying and fighting has subsided dramatically.The children are exercising their minds and bodies outside and come back refreshed, more positive and full of energy, which translates into a more positive and focussed child. We are hoping that it will have an impact on their schoolwork, says da Silva. With funding, karate could be the factor that breaks these children out of the poverty cycle. Most sports look at self achievement. Martial arts teaches self-knowledge. Even if these children don't make the grade, the knowledge they have gained about themselves is enough to make them champions of their lives.' says Shihan Solly.
July
Honbu Black Belt promotions. Congratulations to the following Senpais who Graded from 2nd - 3rd Dan;- Angelo Norkie, Yusuf Bokhary, Zahra Said and Andy Baker. From 1st - 2nd:- M Iqbal Moolla, Zaahid Jappie and Aaliyah Mahomed. Jnr 1st - 2nd Dan:- Zaahid Lambat, Raeesa Mahomed, Mohamed Asim Patel and Naweed Khan. From 1st Kyu - 1st Dan:- Jose Du Plessis, Ameesha Vallabh, Muhammed Loonat, Kaneez Fatima Ismail, Raeesa Ismail and Rayhaan Essop. This promotion concluded on the 10/08/05.
June
During the months of May and June, Shihan dedicated his effort to the preparation for the launch of the New Organization and Name and also training for a team to take part in the National trials in Durban.

15th

Mrs Najma Khota of Channel Islam (founder of the centre for transformation and development ) Interviewed Shihan about the childrens programme at Goudpark Primary school and was most impressed with the unique school programme that Shihan started together with the principal Mrs Olga da Silva. This programme has been aired a few times on CNN-Africa.
April
9th

Shihan and a few Senior Students attended a Referees Seminar in Maraisburg To familiarize ourselves with the WKF rules, which have changed according to Olympic standards.

At the start of the second school term Shihan started teaching classes at Eldocrest Primary School in Eldorado Park. A school which boast one thousand (1000) students. All the students trained under Shihan, Senpais Andy Baker and Ebrahim Miller.

SABC 2 'Takalani News' Featured Goudpark Primary School's Karate Programme on there show, it emphasized the importance of such a programme for and children and the impact it has made on their lives since its inception.

SABC 2 'Take Five' - Featured Shihan, Senpais Zahra, Tumi and Jo Hazelhurst on the self defence programme that Shihan teachers. Shihan's Kansai self defence programme has attracted much interest and Shihan conducts special women's self defence programmes which are very popular.
March
5th

The World Karate-Do Shotokan Academy South Africa

The Kase Ha Warrior Invitational Championship

Shihan took a team to a tournament at the Wembly Stadium. The following students placed amongst the top 4 positions in this tournament. Senpais: Zahra Said, Andy Baker, Yusuf Bokhary and coloured belts Afsal and Sumaya Dawood, Shakoor Fredericks, Yaeesh and Nabaa Patel, Zaheer Dawood, Kirsten Ho and Engenas Mokoena. Our junior black belts that placed among the top three in kata and kunite were Naweed Khan, YU-Sha Said and Zaahid Lambat.Senpai Zahra Said won 1st place in Kata and Kumite and was the womens Grand Champion.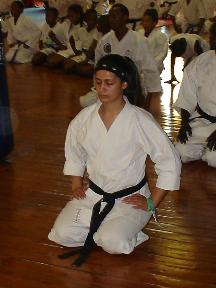 1st

The gym moved into the Hall on the premises with lots of new equipment and much more space. The Gym which is the longest standing one man owned scientific gym in this country was opened by Shihan in 1975. Shihan received instructions in the art of physical culture in Florida at the Nautilus Medical Centre (founded by Arthur Jones) under Dr Elington Dardin, the then resident Doctor for the Olympic Athletes. Needles to say the gym members are thrilled and said that the Gym was always maintained in the highest standard of excellence.
February
27th

Shihan conducted a Black Belt Promotion in Vereeniging of 18 students. This Dojo has grown from strength to strength - Osu Senpai Essop and congratulations to all his students. The people who graded are: Waseela Sather, Tasnim Alli, Sheraz Vahed, Shuaib Vahed, Melanie Joyce Reddy, Baaqira Kays Ebrahim, Safwanah Akbar Alli, Ateeya Mohamed, Khaalida Wajoodeen, Mustaqueem Akbar Alli , Nathan Reddy, Naqeeb Kays Ismail, Anisa Alli, Qasim Alli, Zareefah Kays Ebrahim, ZubairTimol, Mohammed Dadabhay and Akeel-Rahmaan Mungly.

24th

The Eagles Karate Club Challenge

Shihan took a team to the Eagles Tournament in Pretoria. This was the beginning of tournaments to come and gave us an idea of what to expect in an all styles tournament in the future. Twenty one (21) clubs participated with extremely high standard. Our Team performed exceptionally well given that this was their first all styles experience in resent years. This will become a regular event on our calendar.

1st

New Beginnings - The Lenasia branch under Shihan Solly moved from the Baitun Noor center to the Varachia hall at the Lenasia cricket Stadium. The move nonwithstanding, this branch continues to grow from strength to strength.
Shihan Solly also started teaching classes at Bryandale Pre- School. The principal and parents at this school are very pleased with the classes Shihan has conducted and the progress their children have made.
January
17th

After a long deliberation, heavy heart and much consideration Shihan resigned from the World Seido Karate Organization, an organization which he supported and promoted internationally and locally for thirty years (30 yrs)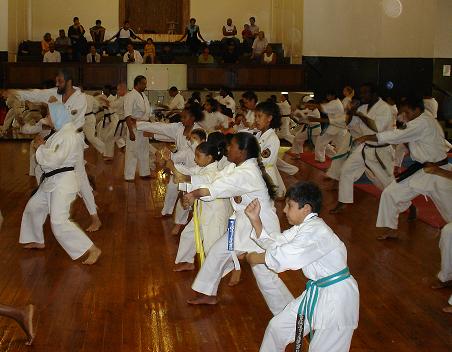 23rd

We celebrated Kagami Biraki 2005. Which heralded the 'parting of ways' for most of us, there was an air of uncertainty yet excitement. This event was attended by plus minus one hundred and fifty (+ 150) students, all of whom wondered what was going to happen after an energetic class. Shihan spoke to all the members and explained his decision to leave Seido, he said that to be true to himself, he could no longer continue to teach a style that is fraught with double standards. Everyone present sighed with relief and pledged their allegiance to their teacher, Shihan S.Said, a passionate and committed Martial arts scholar and teacher who has dedicated forty years of his life to the arts.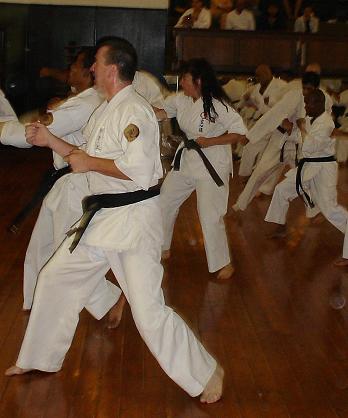 Looking back in retrospect, Shihan Solly chose the right path. To those students who stayed on, a big thank you in having the courage, loyalty and honour to stay on, to help make this organisation grow, lets look ahead and work together to create a truly awesome, one of a kind Karate organisation.

2005 was a daunting year for our fledgeling organisation. This was the first year on our own since Shihan Solly's resignation from the World Seido Karate Organisation. A parting of the ways in many respects - out with the old - in with the new. Some students were not up to the challenge which the changes brought about and so, fell by the wayside.